Quotepads: Funny Knitting Notepads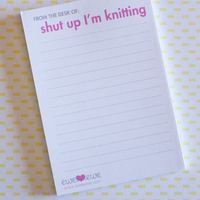 Quotepads: Funny Knitting Notepads
Humorous knitting notepads to keep you smiling.
Every knitter would rather be knitting than doing something else. These quirky little notepads add a touch of fun to the kitchen counter or desk drawer. Choose between two varieties for your particular sense of humor. Quotepads make a gift or stocking stuffer for the knitter in your life!
Quotepads choices:
"All you need is love ...and knitting"

"From the desk of: Shut up I'm knitting"
What's your favorite? Notepads measure 3.5 x 5 inches and have 25 sheets per tablet.
Let customers speak for us