Mile of Smile PDF Crochet Scarf Pattern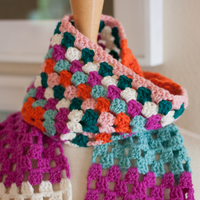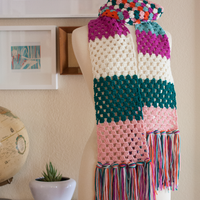 Mile of Smile PDF Crochet Scarf Pattern
Story time! When I was little, I would pick a random assortment of wildflowers (or weeds) and bring them into the house for my mom. I can still remember seeing her smile for receiving such a thoughtful (albeit simple) gift, and carefully arranging the flowers in a small clay bud vase to sit on the window sill. 💐
When I started my business, I wanted to give that same youthful feeling to my designs by using bright colors and cute names. Enter the Mile of Smile scarf – a vintage granny square style with a colorful nod to fresh flowers. Seeing this scarf always brings me just as much joy as the bouquet of dandelions brought my mom. It's the little things in life that make the biggest difference, don't you agree?⁣
Modern crochet is just so cute. Take your favorite colors and make this adorable half granny square scarf. The Mile of Smile uses 6 colors of Wooly Worsted yarn and finishes off with some epic fringe!
See yarn and hook requirements below.
Here are the specs:
Ewe Ewe Yarns Pattern #261
Designed by Heather Walpole
Measurement: 7" wide; approximately 85" long
Yarn: Ewe Ewe Yarns, Wooly Worsted, 95 yards,
Color A: 1 skein (25 Orange Peel)
Color B: 1 skein (70 Aquamarine)
Color C: 1 skein (10 Berry) 
Color D: 1 skein (90 Vanilla)
Color E: 1 skein (60 Teal)
Color F: 1 skein (05 Cotton Candy)
Crochet Hook: Size I/9 5.5 mm
Supplies: Darning needle
Gauge: 4 dc clusters to 4".
View this pattern on Ravelry >